Do you want to be the responsible owner of Chihuahua who wants to provide proper care? I appreciate it.
Let me help you as an experienced owner. Read my blog, "How to take care of Chihuahuas" and you are halfway there. After giving it a read, you will get answers to; How to train Chihuahua, How long you can leave your Chihuahua alone, How and what to feed them, and How to prevent chihuahua barking unnecessarily?
What are you waiting for? Takes notes of all the basic methods, and becomes the responsible owner.
How to take care of a Chihuahua?
Having a bright breed of dog isn't less than a blessing. Not only do they make your life fun but their support makes their care easy too.
Chihuahua is one of these bright breeds of dogs. I know how much you adore your Chihuahua although adoring is not going to be enough. You must give them all the care they require or deserve. That's
the only way to maintain their bright nature and beauty.
Don't know, How to take care of a Chihuahua? Let me begin with the basics to clear all your confusion and queries from the roots.
For better care of Chihuahua, you must know these main aspects:
Grooming of Chihuahua: Care required by
Proper feeding to chihuahua
Chihuahua exercise
Training of chihuahua
Do few aspects seem way too easy? Thinking of skipping those headings? Underestimating them isn't going to take your Chihuahua care anywhere better. Here's the reason, cause these easy aspects have further classification and for a detailed view of these aspects and further classification, you should stay tuned.
How to take care of a Chihuahua Puppy?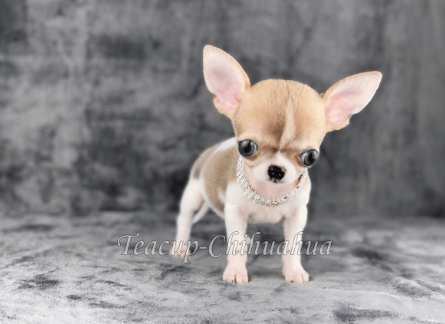 Do you have a Chihuahua puppy? That means your pup's age must be under 12 months. Unquestionably, owning a Chihuahua at an early age is one of the best reasons pet owners can opt.
Does it sound like pups are easy to handle? Nope, this isn't what I'm trying to convey. Your puppy-sized Chihuahua is smaller than the teacup size that means extra care.
What is the mentioned extra care, and how it works? Extra care includes:
Supervision: You can't leave them alone without any adult because they are hyperactive, and always trying to test their limits. Your pup will eat everything and anything found in their path. The same thing goes for their habit of shredding.
Gentle towards their fragile body: Tiny size and fragility of the body are connected. Through the growth period, the body is still adjusting, and if any responsibility happens, it can lead to a lifetime issue. You should grab your Chihuahua through the middle part of the body. Picking your pup by limbs can cause injuries.
Bladder Problems: If your pup is 3 months old, then its bladder is not developed. Housebreaking isn't an option cause of an underdeveloped bladder. That's why, he needs to use the bathroom area frequently, and you must make your pup's access to the bathroom area easy.
Apart from these, the main aspects are similar to adult dogs so you must check out the next few headings too.
How to train a Chihuahua not to bark?
Chihuahua is one of the yappy dog breeds. The most common queries of Chihuahua owners, How can I stop Chihuahua from barking? or Why is my Chihuahua barking?
Aren't you looking for an answer to these two? No worry, cause we got the most effective methods to train a Chihuahua not to bark. Following are the methods:
Become the leader of the household. How to do that? Don't let your Chihuahua jump on you or Don't surrender to whatever they want. These are dominant behaviors, which will let them know that barking is not the way out for unnecessary things.
They bark when they want your attention. Ignore his barking and praise him when he stops barking.
Use command methods like speak and quiet. When he follows you, treat your pup with snacks.
Never yell at them. It works negatively and stimulates them to bark more.
A disclaimer while applying these methods: Barking isn't always useless for Chihuahuas. That's the way your Chihuahua is talking. Try to find the reasons behind their barking as they can be indications of injury, pain, hunger, thirst, and irritations.
How to train your Chihuahua?
Remember, I told you that under 12 months age is the best age to adopt? Why did I say that? For this reason, that training at an early age is easier and more efficient.
Apart from the methods of stopping your Chihuahua, You must set a few boundaries between your Chihuahua and you. For the boundaries you must train them according to the methods given below:
Boundary Method: Train him to keep off it from your couch and bed. Instead, place your pup's bed beside your bed and use a calm tone while talking to it.
Social Method: Take him on a walk to the park and access as many people as you can at an early age. Allow him to play with other pets too. This will increase his sociability and reduce the fear of new things.
Set rules Methods: To prevent and reduce the aggressiveness of your Chihuahua. Ignore him and don't cuddle, if he shows aggression. You can use quiet command or use Good boy or Good girl command when he follows your orders.
All of the methods are going to require the high value of treat so prepare them prior to training.
How to potty train Chihuahua?
House Training of Chihuahuas is known to be difficult. Although training them isn't hard, however, keeping an eye on them is. Tiny size increases difficulty level too.
You must have held this problem with your Chihuahua too. Let me tell you the steps of my methods, who knows they might work for you too.
First of all, decide on your Chihuahua's bathroom spot. The bathroom spot must be a smaller area in your yard that is far from people's traffic.
Take your Chihuahua puppy to the bathroom spot before stepping foot in the house.
From the first day, train it to potty at the bathroom spot.
Take your pup to the bathroom spot after every 20 minutes and when it toilets there, reward it.
Take your pup after every meal and right after when it wakes up.
Keep a close eye if he isn't toileting on the bathroom spot, then where it is doing it.
Don't have a yard? No problem, use a crate.
Few Chihuahuas prefer crates so just add Lil bit soil to make it warmer and comfortable for them.
Always keep the bathroom spot clean as your Chihuahua might not like to poop in a smelly and dirty place.
The most important thing, never to leave your pup unattended as you will not be able to reward your puppy.
How to potty train an older Chihuahua?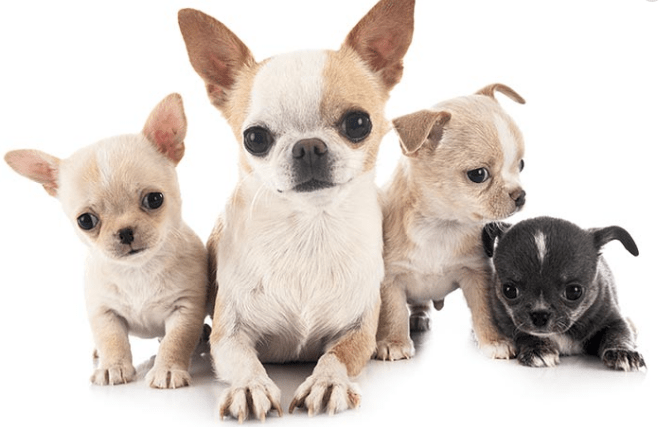 Wondering, What if you have an older chihuahua? How to potty train an adult Chihuahua?
Training an older Chihuahua is quite similar to training a Chihuahua puppy. Worried about Lil bit dissimilarity? Here are the Lil dissimilarity and tips to overcome them.
You should take your older Chihuahua to the bathroom spot after every 1 hour instead of 20 mins. Older Chihuahuas might catch up to praise more efficiently, so use praising words or make a fuss when they toilet at the bathroom spot.
Potty training of older Chihuahuas might take more time but don't punish them or shout at them. Chihuahuas might negatively take them and can copy your behavior too.
What to feed a Chihuahua Puppy?
Feeding isn't limited to what Chihuahuas can eat and cannot. It's also about how much you should feed and how often.
A complete guide covering all three questions. Without dragging it, let's just get to it.
Chart representing what you can feed to chihuahua and what you can't:
Food Chihuahua can eat
Food Chihuahua can't eat

· Apples
· Peanuts
· Rice
· Broccoli
· Salmons
· Bread
· Chicken
· Blueberries
· Popcorn
· Pineapple
· Coconut
· Watermelon
· Blackberries
· Oatmeal
· Coconut
· Beef
· Potato
· Mango

· Onion Chocolate Wild Mushrooms
· Shallots
· Garlic
· Yeast dough
· Leeks
· Chives
· Walnuts
· Grapes (also grape jelly and grape juice)
· Raisins
· Currants (also currant jelly) Macadamia nuts
· Pecans
· Cherries
· Pits or core from any fruit( seeds from apples)
· Any food with xylitol (a sugar substitute)
· Any food (or drink) with caffeine
· Leaves and other parts of a tomato plant,
· avocado plant,
· bell pepper plant,
· eggplant plant
An average healthy Chihuahua requires 50 Calories, for each pound it weighs. You shouldn't feed all the calories at once instead break it into several meals in a day. Thinking, How much is the several meals? It depends on your Chihuahua age.
Under 3 months: 4 to 6 meals/day
From 3-6 months: 3 to 4 meals/day
From 6-12 months: 2 to 3 meals/day
After 1 year 2: meals/day
Can a Chihuahua be left alone during the day?
Have to leave for a full hour job? Confused, whether leaving your Chihuahua alone is a good idea or not.
My answer is YES, but it depends on How long you are leaving it alone. Moreover, the time limit might vary between an adult Chihuahua and a puppy Chihuahua.
In simple words, you can leave your Chihuahua alone for 8-10 hrs if it's an adult. In the case of a Chihuahua puppy, you shouldn't leave it alone for more than 2 hrs.
Still not satisfied? You shouldn't be, cause while leaving your Chihuahua, you must consider all dangers and precautions for them. Let's have a look at them.
Destructive Behavior: Separation anxiety can be the reason behind it. Limit the Chihuahua access to fragile or dangerous things and spray pet deterrents on large things like couches and tables.
Boredom: To prevent them from getting bored, exercise them before leaving. Plenty of exercises will make them tired and sleepy.
Safe environment: Place their favorite toys and treat nearer and easy to access. It includes placing your Chihuahua crate too.
Check Often: Do visit them during lunch breaks if your office is near to the house. Or ask your relatives or neighbors to check them.
How do you maintain a Chihuahua?
When it comes to Chihuahua maintenance, some owners regard them as a high maintenance breed meanwhile some regard them as low maintenance breeds. I am sure, searching: Are Chihuahua high maintenance, and Are Chihuahua low maintenance would've left you perplexed too.
Now, who's gonna answer? You! All I'm going to do is tell you basic grooming steps, and the decision is up to you.
Brush their hair coat daily.
Brush teeth when plaque is accumulated.
Clip their nails to avoid overgrowth.
Bath your pup every other month.
Protect from cold as their haircoats are thin. You can buy sweaters for them.
Exercise of 20 -30 is more than enough per day.
Takeaway
Chihuahua is surely a perfect personality blend as the family pet. You must know how much great emotional support they provide. When your Chihuahua is offering that much to you, isn't your responsibility to fulfill their basic need too.
What is the Chihuahua's basic need? Proper and regular care. For this reason, we have given you a detailed yet compact guide in our blog "How to take care of a Chihuahua?"
You just have to give it a thorough read and follow them. It will help you to reach your goal which is,
Giving your best friend the best care!
References
https://www.yourpurebredpuppy.com/
https://dogcare.dailypuppy.com