Adopting a pet is not an easy task especially if you are a first-time owner. We are here to help you through this.
Looking for some breed so elegant and cute that will make people's heads turn? Yorkshire Terrier mix with Pomeranian, It is!
A Yorkie Pom is a hybrid breed between Yorkshire Terrier and Pomeranian. The parent breed is more than enough to satisfy you. How? The parent breed has been known for being good parents dogs however, they lack at the matter of health.
Breeders solved the issue by cross-breeding them into a designer breed which is a perfect mixture of both breed's features. What are these? Start scrolling down.
Also Check: Do Pomeranians Need To Be Groomed?
Yorkshire Terrier Mix With Pomeranian
Looking for something tiny, intelligent, bold, and furball? Yoranian aka Yorkie Pom is the best dog breed for you.
Not only do they have cute visuals, but they are smart, and alert too. Their pointy ears give them an alert look, and the double layer of long silky hair makes them the perfect cuddle dog too. The coat has different colors to offer from brown, beige, cream to white and black.
In addition to that, they don't resist showing love towards their owners and are overprotective towards them.
Also Check: Mini Husky Pomeranian Full Grown
Origin
You must be curious about their history? Where and how do these half Yorkie and half Pomeranian come from? Let's get down to their history.
Yorkshire Terrier with Pomeranian was crossbred in 1990 in America. The perfect combination of good nature and smartness was all thanks to their parent breed.
Yorkshire Terrier originated from England, is known for hunting in coal mines, although Pomeranians are categorized as working dogs too.
These cute pups with tough personalities, the perfect blend of features inherited from their parent breed however, the researcher's name remains unknown to history.
Also Check: How To Take Care Of A Teacup Pomeranian?
Yorkie Pomeranian Mix Full Grown
How big will your Yorkie Pomeranian get? When they attain their full growth? According to their owner, Yorkie Pom reached their maximum height and size at the age of 12 months. After that, it's hard to observe any notable change in their growth.
If your Yoranian is more than 12 months, then the average height he should have from 6 to 12 inches. If it's not in the mentioned range, then you need to pay attention to their nutritional value of food.
The average weight of Yoranian weighs around 3 -7 pounds. What causes these variations? Their coat either has a single layer or double layer.
Also Check: Mini Chow Chow Pomeranian Mix
Temperament
What makes Yorkshire Terrier mix with Pomeranian good pet dogs? Their lovely, playful, and energetic nature.
They have immense love for their owners and family members. Love to cuddle and go everywhere with you. If they find you tired or sad they will spread their sunshine around the surrounding.
They are great family pets if you don't have kids in your house. Having kids in the house isn't a big problem, although you must pay attention to them as they have fragile posture.
Being social pets they adjust really well with other pets however, keeping them with large breeds might not be your suitable option.
Also Check: How To Take Care For A Pomeranian Puppy?
Health Issues
You know why these designer breeds of dogs have gained popularity? All because they reduce a large number of health issues of their parents.
Still, your Yorkie Pom might inherit these issues so you must pay attention to them and give them a regular checkup from a veterinarian. Although it is not confirmed.
Eye Problem: Cataracts make their lens cloudy and lead to blindness.
Dental problem: Tartar build-up might lead to gum and teeth roots infection.
Collapsed Trachea: Blockage of windpipe when the cartilage surrounding it collapses.
Patellar Luxation: Dislocation of knee cap from joints.
Being crossbreed, they are less likely to be prone to these problems however, you must keep a keen eye on them and get your pet treated if it is present.
Also Check: How To Potty Train A Pomeranian Puppy?
Feeding
Similar to other dogs, they need to have a well-balanced diet. Your Yorkie Pom is less prone to health issues however nutritional deficiency can cause it.
The best way to feed your pet is by giving them dry food. It will prevent your pet from dental diseases too.
Just give them a proper portion of food according to their dietary requirements. You must be thinking why? Here's the thing, your Yorkie Pomeranian has a tiny body, and gaining weight will be up to no good for them. It can, later on, lead to obesity too.
An adult Yorkie Pom needs ¼ to ½ cup of dry food in a day so make sure to give them. Feeding a proper diet is the only way to maintain your pup's energetic side.
Also Check: How To Make Pomeranian Hair Grow Back?
Training
Training a Yorkshire Terrier mix with Pomeranian is an easy task as compared to their parent breed. Being smart plays an important role however they need short and regular training sessions.
Yorkie Pom is one of the yappy dogs. No worry by proper training at an early age your pup can be controlled.
The best age to train them is 6 months and onwards. You can use the reward method and hush method, especially for barking. Try to reward them when they follow your command and ignore them when they don't. This is definitely the most used and successful method.
Also Check: How to Housebreak a Pomeranian?
Grooming
Having fluffy dogs is perfect for cuddles. Isn't it? Not when it's your fluffy friend grooming time.
Your Yorkie Pom is surely one high-maintenance breed. They have long double coats of hairs which shed.
Don't worry just brush its hair daily, wash them weekly and get them a cute haircut every month.
Grooming doesn't end here. You need to brush their teeth to resist tartar accumulation and trim their nails so your furniture does not get affected.
Sometimes owners observe excessive drooling in their pups. In case you observe excessive drooling in your pet, so get your friend checked as drooling is not normal in the Yoranian breed.
Also Check: How Long Do Teacup Pomeranians Live?
Lifespan
The average life expectancy of Yorkshire Terrier mix with Pomeranian is 12 to 15 years. That's quite a good lifespan as compared to other breeds.
Moreover, the life span can vary depending on the factors like their diet, grooming, daily exercise, and vaccination courses.
Don't panic even if you see some health issues in your Yorkie Pom cause they are completely curable.
Also Check: Crate Training a Pomeranian Puppy
yorkie pomeranian mix price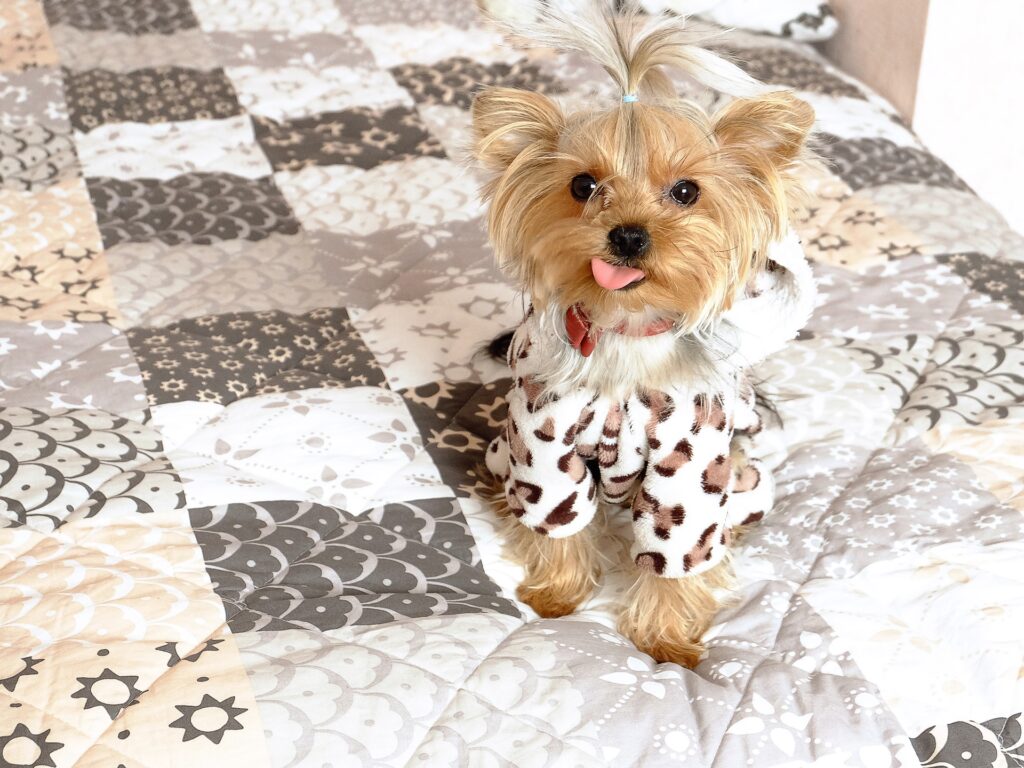 Are you finally convinced that it's the most suitable one for you? I ain't even amuse, I knew it's going to happen. Their adorable and appealing visuals are hard to resist.
Now the next step, how much does a Yorkie Pom cost? A Yorkie Pom can cost around $400 to $1000.
Does it seem too expensive? Here's a bonus tip; search rescue centers that have Yorkie Pom and convince them to let you know when they found a Yoranian. In rescue centers, Yoranian dogs are around $200-$300.
Takeaway
Let me sum up the article "Yorkshire-Terrier mix with Pomeranian". A high maintenance designer breed with an amazing appearance. Not only do they have fascinating visuals they are friendly and highly trainable pets too.
Give the whole article a thorough read to get into details and decide late whether it is according to your taste or not. I know it's gonna be your taste, so make sure to give them love, care, and attention cause they don't lack these.